Published October 20, 2023 at 2:14 pm
Second class enjoyed their Maths week activities this week.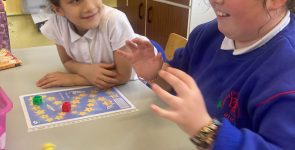 Published October 13, 2023 at 7:48 pm
Second Class enjoyed a lovely walk in the park today. They found lots of signs of autumn and collected many leaves and seeds on their scavenger hunt. They identified the leaves and trees using their Tree Key. Back in class the girls created beautiful art using their leaves, seeds, conkers and husks.