Happy Christmas
Happy Christmas from Third Class.
There was great excitement in school this week. The girls showed off their amazing talents in our Talent Show. They created lovely artwork and Santa visited the school today!!! It was a fabulous week.
We hope everyone has a happy and peaceful  Christmas.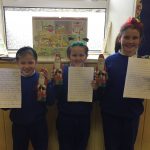 Winners of our Handwriting Competition. Well done girls!